Kiddo App takes out the 2020 AusMumpreneur Award for Digital Innovation
Last night Kiddo App won 2020 AusMumpreneurs Digital Innovation Award. The awards, slightly different to previous years, were held online via Zoom. Thousands of talented mums in business from all over the country tuned in to the live stream to support and encourage other Australian mumpreneurs.
Rebecca Dredge, CEO & Founder of Kiddo App said she was excited to win in her category in the 2020 AusMumpreneur Awards.
Kiddo App - designed to make life easier for parents - to make a difference
"My mission was to make life easier for parents. By connecting them to trusted, local, affordable Babysitters and Nannies.
Firstly, to build Kiddo App with no prior IT knowledge has been a huge job. When I started on my journey I knew two babysitters and didn't even have a Facebook account!
However,  I am so proud that in 12 months of being on the app stores we have such a strong Kiddo tribe. Now thousands of parents use Kiddo and we have over 1,000 babysitters!"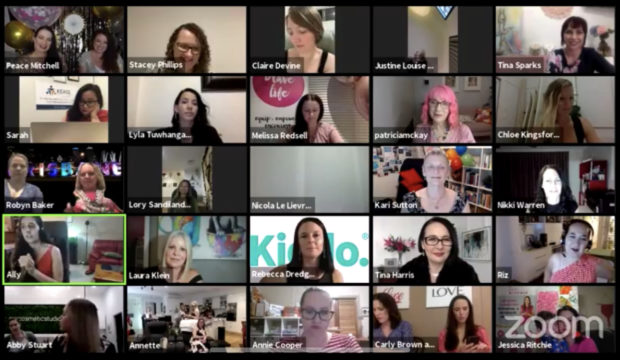 View Kiddo's acceptance speech here
The AusMumpreneur Awards are presented by The Women's Business School and were created to inspire, celebrate and provide a community for Australian entrepreneurs, like Rebecca Dredge. "Now more than ever Australian women need inspirational role models and a safe and supportive space to connect online" Peace Mitchell, Co-founder of The Women's Business School said.
This is the eleventh year the AusMumpreneur Awards have run. The business mum community is growing at lightning speed, as mothers look for opportunities in search of more flexibility, financial freedom and family time.
"The number of women starting businesses has continued to grow in 2020! Of the 670,000 women operating a small business in Australia. Currently, around 50 per cent are mums with children at home. 
Rebecca is an inspirational role model and ambassador for mums in business everywhere. We wish her and all our amazing AusMumpreneur Award winners every success."
The complete list of winners can be found here
For more information on the AusMumpreneur Awards visit here