Parenting tips
The morning routine with children of any age can be hectic - whether you are packing your daycare back, sending your Grade 3 child to school, things are always chaotic. Between trying to get yourself ready, your kids ready, then doing the drop-off run, you may just barely get to work on time - no matter how early you get up! As a working parent, we understand that any tips on how to make your morning routine easier would be welcomed. 
So here's what we have come up with!
Sure, this may be a chaotic time trying to balance work and school drop off, but there are also wonderful things you can do that will allow you to get ready each day smarter, not harder. With that being said, below are some powerhouse tips for busy parents such as yourself, tips that will help you and your family wake up each morning prepared, happy, and above all, stress-free.
1. Go to Bed A Little Earlier
If you and your kids have a hard time getting out of bed each morning or wake up "grumpy," then try going to bed a bit earlier each night. Going to sleep earlier can work wonders at keeping you focused, positive, sharp, and ready to take on the day. Overall, sleep is an essential part of life, and if that is lacking, then even the smallest tasks can feel like massive obstacles. For reference, The Sleep Counsel states that kids ages 3-6 need about 10-12 hours of sleep a night, kids between the ages of 7-12 need about 10-11 hours, and teenagers and adults need around 8-9 hours.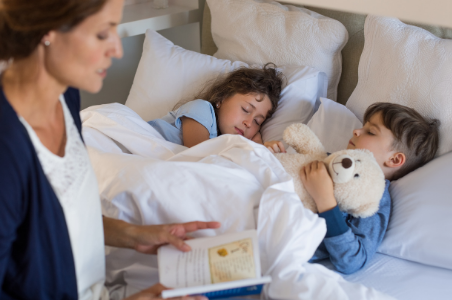 2. How to make morning routines with kids easier - Plan the Night Before
Next up is planning what you can the night before to make school drop-off mornings go smoother. This could include laying out your kid's clothing for the next day, bathing the night before, ensuring that their homework is done and packed, etc. We find keeping all school items on one shelf in the laundry saves our sanity!
These may seem like little things, but they add up and eat time in the morning when you are racing against a clock. Doing it in the evening not only creates more flexibility in the morning, but you are also not as rushed during that time as you are probably home for the night. In a nutshell, plan the night before and your future self will thank you.
3. Create A Solid, Yet Simple Routine
If you want a smoother morning for you and your kids, then a routine is a must. And not just any routine, a simple one. The more simplified you can make your mornings while addressing every task that needs to get done is what is going to help make everyone feel more confident and prepared. The best way to do this would be to create a timeline checklist that you and your kids can turn into a habit. Each family is different, but often find having the same pattern every morning not only helps parents, but the children also feel more at ease with what is ahead.
4. Meal Preparation
There is a good chance you feel anxious because the moment you wake up. You realize all of the things you have to do throughout the entire day after you drop your kids off at school too. It's not just about making it through the mornings.
To ease that up a bit, consider taking some time on a Sunday afternoon to meal prep lunches and dinners for the rest of the week. Being able to save an hour or more of time in total during the day by merely unfreezing a pre-cooked healthy meal can have massive positive effects on your mental wellbeing. To help you out, you can find some delicious family-friendly meal prep ideas here.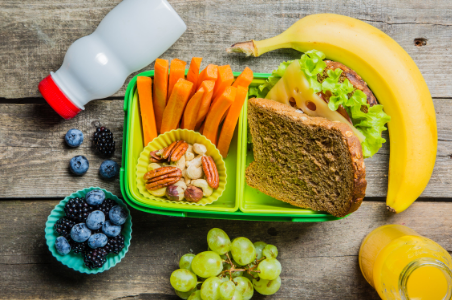 5. Give Yourself A Few Minutes Alone
This last one is quite possibly the most important. There is an old saying that life is 10% of what happens to you and 90% of how you respond to it. Using that same philosophy, when you take 5-10 minutes to yourself each morning (preferably via meditation). You are setting yourself up to become more relaxed, calm, and optimistic for the rest of the day. Having this uplifted mindset is how you will face challenges in a more peaceful manner. You will stay level-headed, and not escalate anxious emotions that could set your kids up to feel rushed as well. In the end, attacking the morning routine with the right state of mind makes all the difference.
Conclusion - Prioritize your time, so you have more time!
It is no secret that busy working parents all across Australia, and the world for that matter, have a full plate that keeps them on their toes. Parenting is a hard gig to take on in general, let alone making it through each morning alive!
However, by integrating some (or all) of these tips, you will be able to lessen your morning stresses and make your morning routine so much easier.  Freeing up time to do what you actually enjoy when being a parent!
Lastly, never forget that after a long week of scrambling for school drop-off, heading to work, and tackling everything else in between, a qualified babysitter or nanny is just one click away from you getting that much-needed break or date night that you genuinely deserve.