We know for many Easter is a time to connect with family, have some Easter Fun and have some downtime from work. It's a special time to connect with our children and just get back to being a child ourselves! We have come up with some super simple, yet effective Easter fun ideas to do with the Kiddos over the long weekend.
1.   Glow in the dark Easter Egg Hunt
Traditions are there for a reason, but hear us out… Easter egg hunt but make it glow! Let's face it, it's Easter morning, the kids wake up before the crack of dawn. They are so excited for Easter - why not make this year's Easter egg hunt a little more memorable and make it a "Glow in the Dark Easter Egg Hunt!" You can get your Glow In Dark Easter Eggs here! Better still if you've got any glowsticks in the cupboard, you could easily bend them into some empty plastic eggs (normally available at Kmart or Spotlight).
They're a fun twist to a great tradition and can be done indoors with all the blinds shut, superpower eyes open. Or, of course, outdoors at night - a great idea for some Easter fun with the older Kiddos too!
2. Footprint Carrots
Love, love, love these footprint carrots. Why not do a few and make a carroty pathway along your art wall? Or write on the back and use as Easter cards. Simple and easy to achieve with some paint, paper from the study and wa-lah! A masterpiece is made!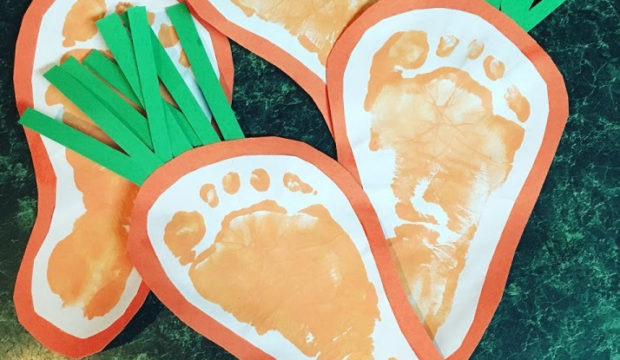 3.   Rock Easter Egg Painting
Easter egg painting can be messy regardless of what you paint. The actual egg itself smashing after your kids have painted them leads to another mess of either the crying or the stench of the egg itself lingering around your kitchen as you deal with the crying first…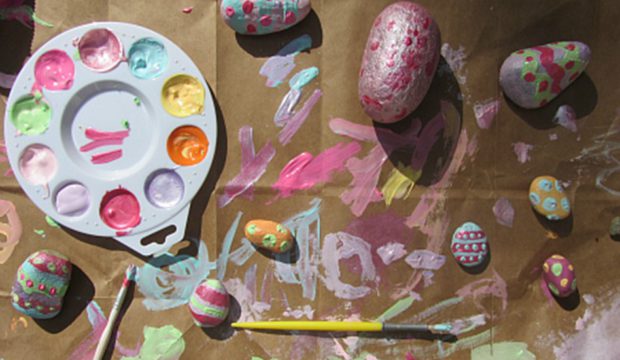 Easter egg rock painting!! Who would of thought (I'm sure you would have). Such a fun and effective way to yet another easter tradition with less of a mess.
4.   Toilet Roll Easter Animals
Save those after used toilet rolls parents, have we got an idea for you. Turn those plain toilet rolls into a children's masterpiece, all you need is paint and good ol' arts and craft extras such as feathers, googly eyes etc.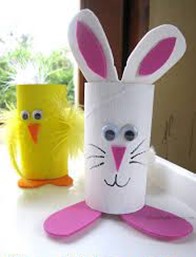 5.   Mini popsicle stick chicks!
Another recycling trick this Easter… popsicle sticks. Make some adorable miniature popsicle stick chicks with your kiddos! It's an easy craft to do and it's fun for Easter time!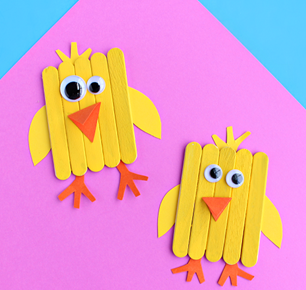 Again, needing the same kinds of arts and craft material as before, though with popsicle sticks this time. Grab some popsicle sticks and you can create these adorable Easter bunnies or Chicks!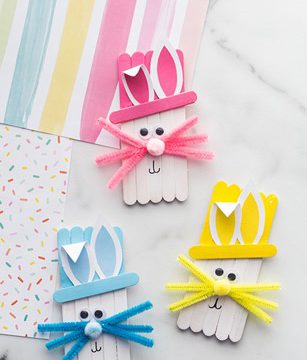 6. Paper Plate Bunny Masks
What you'll need:
Paper plate
White card stock
Light pink felt
Jumbo craft stick
White pipe cleaners
Hot glue/hot glue gun OR Elmers Glue if kids will be doing the gluing themselves.
Scissors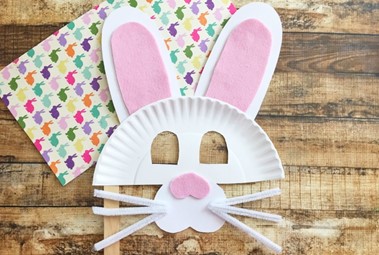 This cute whiskered paper plate Easter Bunny Mask is an all-time favourite craft that children of all ages will enjoy having in their dressing up box all year round.
Cut a paper plate in half.
Using a pencil draw on two half oval eyes and carefully cut out with scissors.
Cut out two long oval ears and a heart about 4cm wide by 3sm tall from your white card stock.
Glue the bottom of your heart to the bottom middle of your paper plate.
Cut out smaller heart from your felt and glue the bottom of the heart to the bottom of the heart.
Then cut out (6) 3cm pieces of pipe cleaner and glue 3 to each side of the white heart.
Cut out 2 long ovals from your pink felt slightly smaller than the white paper ones, glue the pink ovals onto the white ovals, and cut the bottoms flat for the ears.
Glue the ears to the back top of the plate.
Then glue a jumbo craft stick onto one side of the plate to use as a handle.
7. Photo Bunnies
This idea just has to be the cutest and BEST! Tactile, sensory fun for the little kids, and yet something that you can treasure forever. We know that this would be an absolute HIT for the Grandparents too!!! Some cotton wool, print off a cute photo, and get dabbing with some glue to cover your fluffy bunny!
If you need some more ideas to keep the Kiddos entertained. Why not check out our 25 Ideas to keep kids entertained Indoors here 
Remember Kiddo is always here if you need to book a babysitter over the break  - simply update your booking location to book a babysitter when traveling! With the best Babysitters in Sydney, Babysitters in Brisbane, Gold Coast Babysitters and Sunshine Coast Babysitters, we have you covered!