You may currently be a Babysitter on Kiddo and recently seen our "NDIS care for kids" update. You might be wondering what this is and how you could potentially be part of it. Well this blog is to outline what NDIS Care is, how you can go from Babysitting to also offering care to NDIS children and how you can do this on Kiddo.
NDIS what does it mean?
Well to take the definition as a literal term direct from the NDIA Government website:
National: The NDIS is being introduced progressively across all states and territories.
Disability: The NDIS provides support to eligible people with intellectual, physical, sensory, cognitive and psychosocial disability. Early intervention supports can also be provided for eligible people with disability or children with developmental delay.
Insurance: The NDIS gives all Australians peace of mind if they, their child or loved one is born with or acquires a permanent and significant disability, they will get the support they need.
Scheme: The NDIS is not a welfare system. The NDIS is designed to help people get the support they need so their skills and independence improve over time.
The NDIA is the Government body that provides funding to help people get the support they need to improve their skills and independence over time. This can include things such as Care, assistance with duties around the house (gardening, laundry) , Physiotherapy, speech therapies and much more.
A lot of NDIS funding is provided to help people with the assistance of daily activities – such as providing care, overnight stays to provide parents respite and going to activities to enhance a participants overall life experiences to build their independence.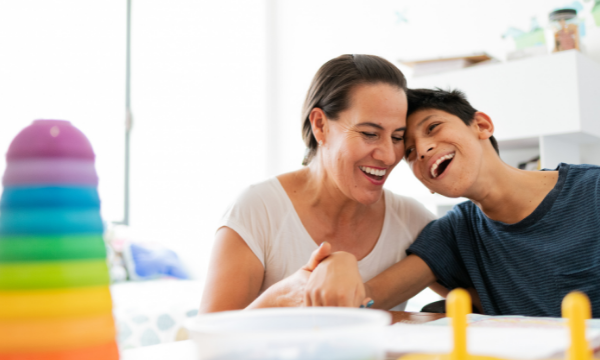 Can I offer NDIS care as a Babysitter?
For many parents, they have the option to select the types of services and people they will engage to meet their child's goals. Many parents use Kiddo to find not only babysitters, but love to book Kiddo Carers as so many are child focused. You may be a babysitter now and wondering if you would be suitable for NDIS Care, some questions to ask:
Have you previously worked as a support worker? If you love caring for children too, then becoming an NDIS Carer seems an obvious answer.
Are you studying? Parents often look for Nursing students, Physio Students or people with some form of training so they know they can care for their child.
You might be an Educator, OSH Carer or Teacher? and have experience with children with ASD or ADHD already! Many parents are comfortable with booking a Carer that are Educators/Teachers – parents know you've had some formal training on behavioral management, first aid and will provide the best level of care for their child.
When considering what type of special needs care you can provide, have an honest think about your experience and what level of care you are skilled to assist with. For example, if a parent required someone with at least a year of university of a Nursing degree, we would not recommend taking on this job if you were not qualified as the parent is needing a higher level of care.
How can I provide NDIS care on Kiddo?
If you already have a profile, experience – you are almost ready to go! Here is what you need to provide NDIS care on Kiddo:
Be over 18
Hold a valid Working with Children Check/Blue Card (QLD)
Hold an ABN (can apply free here)
Experience or maturity to care for children with special needs
You need to understand that this type of work is declared as it is lodged directly to the Government agency that oversees NDIS funding. The rates for NDIS care are typically higher than babysitting, average rates we see on Kiddo Weekdays/Evenings $40-$45 an hour - weekends $60-$80 per hour.
(please note these are average rates and we cannot influence the rate you decide to input)
How does Kiddo make it easy for me?
Well we work day and night to bring parents to Kiddo platform so you can get work! (Yes it's an Aussie Mum behind it all making it happen!). We make it easy for you by:
Ensuring your rates are within the NDIS Price Guide
We prepare your invoices. So you have what you need for your Accountant at tax time.
We submit invoices direct for the parent so they are reimbursed super quick!
Want to know even more about NDIS, read it here