Times like these we need to support our best
Kiddo's Top Five Reveal!
What a roller coaster of a month it has been already. The joy and excitement of Brisbane being selected to host the 2032 Olympics. Then also the low of being in lockdown again. If it's one thing we love to promote at Kiddo, it is other small businesses They are the backbone of bringing us joy and entertainment. They need our support so much right now, as we are all in this together.
We have put together the top 5 restaurants for your next date night. Whether it's Brisbane and the Gold Coast, we are spoilt for choice when it comes to incredible dining experiences and Kiddo are now going to reveal the best Brisbane and the GC have to offer.
Let's kick things off with a Brisbane city gem.
Number 5. Mrs Browns Bar & Kitchen, Newstead
Mrs Browns Bar & Kitchen is a beautiful industrial style designed restaurant. Its characterful interior shines through the dimly lit restaurant and bar. Mrs Browns focuses on an Australian based cuisine with a hint of Asian inspired flavours. The Slow Roasted Lamb Shoulder and Crispy Roast Potatoes are complemented beautifully with a side of wok-tossed seasonal veggies, dressed in a chilli, garlic and oyster sauce. Mrs Browns holds a consistent and vibrant atmosphere throughout the night which adds to the incredible experience you'll be sure to receive. An exciting start to our top five.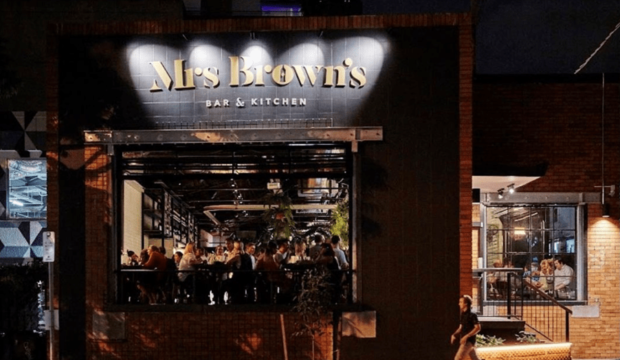 Number 4. Julius Pizzeria, South Brisbane
Due to tradition, an Italian Restaurant must be included in a top 5 reveal. So we have to include Julius' Pizzeria at South Bank. Not only is their Italian cuisine to die for, but their wine list is also second to none. Not only are Julius's traditional woodfire Pizza's sumptuous their Pappardelle al Ragù d'Anatra is melt in your mouth stunning. It is the perfect date spot, located down a small alleyway its atmospheric restaurant is a must-try whilst up in Brisbane. Value, experience and tradition are three words that spring to mind whilst dining at this beautiful Italian Restaurant.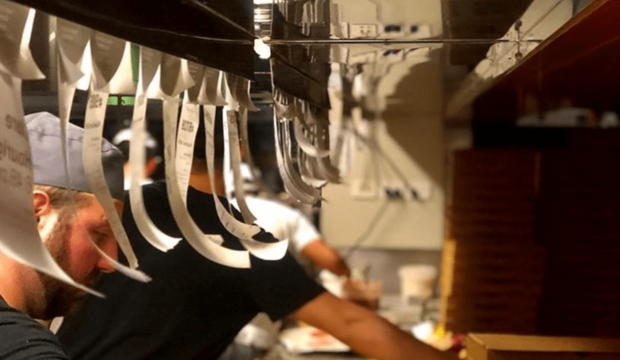 Number 3. Jimmy Wah's, Gold Coast
Asian fusion, here we come. Located down on the Gold Coast Jimmy Wah's has quickly gained the reputation as one of the best restaurants on the coast. Punchy, vibrant, fresh and flavoursome are exactly what you expect from authentic Vietnamese cuisine. Offering stunning dishes like the Jimmy Wah's Half Chicken morning glory, kaffir-lime, tamarind & coconut cream paired with a lovely Green Papaya salad.
If you're already salivating at the thought, it's best not to even consider the cocktail menu. Their extensive range of exotic cocktails may just see Jimmy Wah's secure your next dinner reservation. Enticing you in are the Saigon Spider, Hello Halong and the Good Morning Vietnam.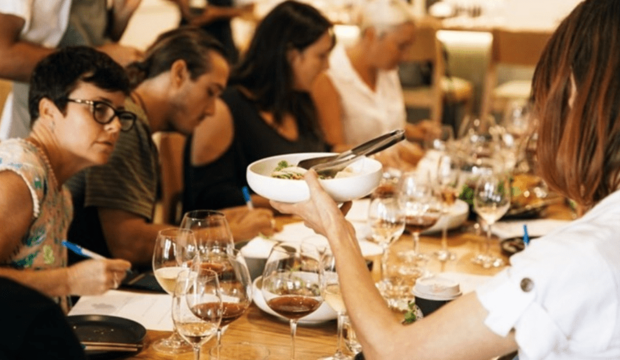 Number 2. Restaurant Dan Arnold, Fortitude Valley
 Insatiable quality! Dan Arnolds degustation style restaurant is in the heart of Brisbane, based in the cultural setting of Fortitude Valley, Dans restaurant exudes a contemporary and relaxed feel that welcomes each customer.
A selection of set menus will introduce your pallet to a variety of flavours and culinary brilliance. The techniques required to create the dishes Restaurant Dan Arnold offers are extraordinary and reminiscent of a Michelin Star restaurant. Along with the incredible food is an atmosphere filled with passion.  You won't be dissatisfied if you decide to try Restaurant Dan Arnold!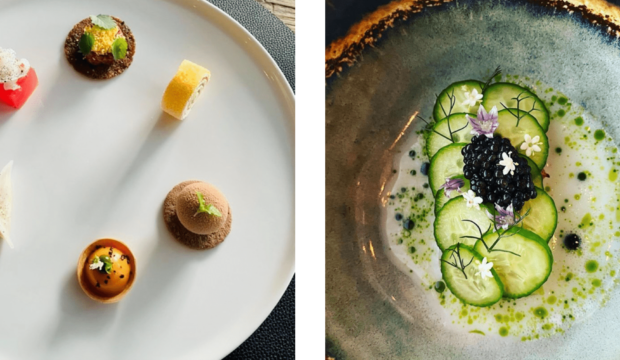 Finally, we have reached Kiddo's Number One Restaurant recommendation. This Restaurant is something very special, and worthy of any special occasion. We hope you one day enjoy an afternoon lunch or romantic evening at this stunning location.
Finally, the best restaurant for date night...... Rick Shores, at beautiful Burleigh
Located in the beautiful Burleigh Heads and home of the best restaurant view in Queensland. Undoubtedly, Rick Shores has to be the best restaurant for next date night. It is home to a world-class dining experience, atmosphere, location and divine seafood…. what more could you ask for?
Boasting seats that allow you to watch the waves crash gently into the rocks. It makes for an incredible start to any meal. However, it gets better! The food, wine, cocktails and desserts are all beyond expectations and give you every urge to indulge even more than you should. Guilt though should never be felt when you are in such a lovely establishment.
The Chargrilled King Prawn Yellow Curry and Moreton Bay Bug Roll are standouts in a balanced menu that includes jaw-dropping dishes throughout. In addition, if you're passing by without a booking and but just fancy a snack don't be disheartened. Pop down and enjoy a glass of wine and a bug roll just outside the restaurant. There is seating available that gives you a taste of what lies inside.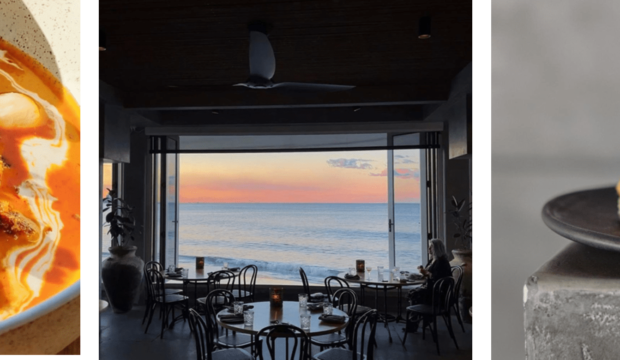 Congrats to Rick Shores, and all the other beautiful Kitchens and Bars. Why not get amongst it, support a local restaurant and book a babysitter this weekend and make the most of what Brisbane and the Gold Coast have to offer! Here are some other 'Date night ideas for parents in Brisbane.'